Why buy a house in the Dordogne, Lot-et-Garonne or Lot?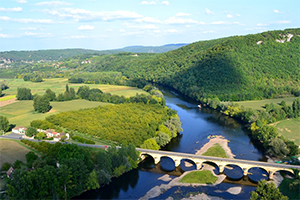 France is a large country with a really varied range of climates, environments, house styles and region specific food and wine.
There's a lot to choose from. Given all it offers, it's no surprise that France is also one of the most visited countries in the world, both as a tourist destination and as a location for a second or principal home.
Our area is one of the most sought after, in part because of a combination of beautiful weather and wonderful scenery, but also now accessibility. We are in the southwest corner of France in the region known as Aquitaine, about 2 hours inland from Bordeaux.
Quality of houses
There are a huge range of types and styles of houses here – from chateaux, chatreuses, manoirs and maisons de maitre to farmhouses, longéres, village houses and converted barns – and each is different from the next. Many are very old and are built of beautiful golden sandstone and, given their age, some require upgrading or modernisation. There are many, however, which have been restored to a high standard, providing very comfortable contemporary homes. So you'll find a wide choice of properties suitable as holiday houses or permanent homes.
Investment value
As all 3 of the departments we cover are well known – by overseas visitors and French alike – each is a sought after location for property. Prices are not as expensive as along the south and west coasts or in Paris, but in fact are average for France as a whole. And because they often compare well versus property prices in, say, the south of England, you can often buy a relatively larger property here than in northern Europe – and certainly a lot more garden space! Also because of the rigorous purchasing system and the stability of the French housing market, your investment is safe.
Accessibility
Bergerac airport brings in hundreds of thousands of passengers a year, with arrivals from 11 airports in the UK alone, as well as from Ireland , Holland, Belgium and Paris. Bordeaux and Toulouse airports are just 2 hours drive away and the 2 cities are also accessible by TGV.
You can drive here from Calais in 8 hours, from St Malo in 6 hours, from Belgium in 10 hours or Holland in 11 hours.
Climate
Our area has a very pleasant climate, with long, balmy summers and warm springs and autumns. You'll spend a lot less on your heating bill and enjoy the outside life for a large part of the year. A lot of people have swimming pools and once you become used to having one, it'll seem like a necessity rather than a luxury during the summer. And although we do enjoy a lot of sunshine throughout the year, the weather is not as extreme as the south coast and the countryside stays verdant.
Countryside
The Dordogne, Lot-et-Garonne and Lot have a lovely mixture of small valleys, rivers, vineyards, sunflower fields and forests. It's very green, but with four real seasons, the spring and summer rich with wild flowers and their scent – and with deer, boar and indigenous birds of prey all around. It feels like a baize blanket, dotted with small picturesque villages. And inbetween, the winding roads are often empty of traffic.
History
The area is full of small pretty villages, some of them old 'bastides' built by Edward 1st in the 13th century . They often have squares with covered markets, surrounded by old stone buildings and surprisingly large churches, and in the summer are full of flowers, cafés and local markets. Lascaux caves have the world's finest example of pre-historic cave paintings. And there are dozens of magnificent chateaux, many of which you can visit.
Food and Wine
And of course, there's the reputation for fine Périgord food and wine. Lots of local produce – duck, foie gras, truffles, cêpes, vegetables and wild boar – all make eating in this region a delight. And you have to give it time – lunch is serious here. There are some great wines cultivated in the region, including many from the vineyards around Bergerac, including the well known Perchamont and Monbazillac varieties.
Outdoor activities
Our corner of France is a wonderful place for outdoor pursuits. The huge network of small lanes and pathways - 'chemins rurals' - make for superb walking. And there's canoeing on the river. Cycling is a very popular sport for the French and here you'll find miles of quiet roads to enjoy. Horse riding is also excellent here, with many equestrian centres offering courses and trekking, and again the spider's web of bridleways make for safe and enjoyable hacking out. You can even play good golf here now, with a wide range of quality courses. And as the sun shines most of the time, you can play in shorts and T-shirts for 6 months of the year – a major bonus if you've grown up playing your golf in northern Europe!
For the less active, there are many cultural and historical sites to visit – chateaux, churches and abbeys, formal gardens, historic villages, riverboat trips and vineyards.
Useful links
www.dordogne-perigord-tourisme.fr
www.pays-de-bergerac.com
www.southofthedordogne.com
www.meteofrance.com
www.bergeracairport.fr
www.brittany-ferries.com
www.poferries.fr
www.chateau-monbazillac.com
www.haut-pecharmant.com
www.lascaux.culture.fr
www.semitour.com
www.equinetourism.co.uk
www.golf-dordogne-perigord.com
www.lolivariegolfclub.com
www.souillaccountryclub.com
www.vigiers.com
www.lesmerles.com
www.materie.fr
www.golfdeperigueux.com
www.vslgolf.com
www.walkingdordogne.com
If you'd like more information please This email address is being protected from spambots. You need JavaScript enabled to view it..